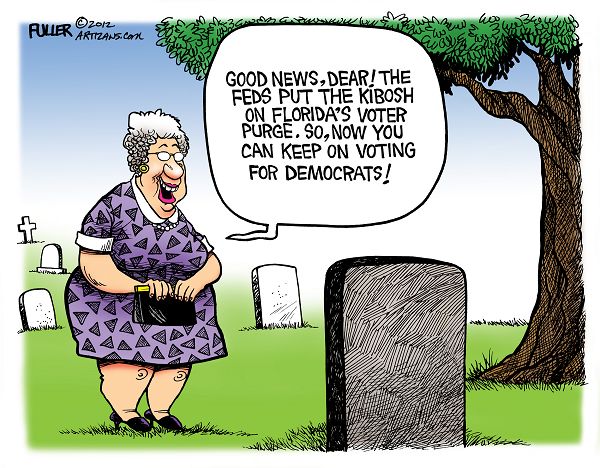 If Hillary Clinton wins in the general election, I hope and pray that the Republican Party will seriously look into the rigging of the election. This can be (and has been) accomplished in various ways. Let's look at a few.
Registering Non-citizens
In most states, no proof of citizenship is required to register to vote. Even in states with voter ID laws, non-citizens with a government issued photo ID can easily register and vote in U.S. elections. Visitors from other countries, who may only enter to register and then vote, have the ability to swing elections. This is not as far-fetched as it sounds. I went to a Latino event in Fort Wayne and saw a table for Democrat voter registration. I asked the person manning the table if he checked for proof of citizenship, to which he replied that he was not even allowed to ask. However, he assured me that non-citizens wouldn't want to vote anyway. A large proportion of non-citizens reports
at least registering to vote
. In states like California and New York, that makes a huge difference.
The Voting of the Dead
In my opinion, the election is held so close to Halloween so that the dead can stick around and vote Democrat. There is a reason that liberals generally oppose scrubbing the ballots frequently and conservatives endorse it. There are a great many
now-deceased voters
still on the rolls. In states with no voter ID laws, it would be easy to find a list of the deceased, match it to the current voter rolls (unscrubbed, of course), and find out who to vote as and where to do it. The phrase "vote early, vote often" takes on a whole new meaning when you really stop to think about it.
Information Control
This type of election rigging is much more subtle and much more prevalent. It happens every election. It used to be limited to newspapers and television news, but now it occurs in an even more insidious fashion.
Search engines can be tweaked
to display results that favor one candidate over another. For example, Google donates overwhelmingly more money to Democrats than Republicans, and has several staff members and ex-staffers in the Obama administration. Since Google handles the vast majority of Internet search traffic, it has the ability to dramatically affect the opinions of people regarding candidates. Looking at random Google results, there is a noticeable crowding of negative stories about Trump on the first page of search results and positive stories about Hillary near the top of the list.
Google, of course,
flatly denies any tampering
with the search algorithms, but even one shady staffer could alter the program to affect search results. Google claims that it works with the non-partisan Voting Information Project to ensure balanced results. The problem is that the Voting Information Project is funded through Left-leaning grants.
The Voting Information Project is funded by the
KnightFoundation
, which donates money to media start-ups and projects to promote diversity in the newsroom. This doesn't mean intellectual diversity, but racial and ethnic. Such thinking is decidedly Leftist in orientation, and tells you how the VIP is likely to lean. The Knight Foundation also funds foundations like the
Sunlight Foundation
, which disproportionately targets Republicans who oppose socialists like President Obama.
ACORN
has already demonstrated that the Left is willing to commit voter fraud. In the 2012 election, 100% of the registered voters in some districts in Ohio voted for Obama. GOP inspectors were illegally removed from polling places in many of these districts. Think for a moment. Yes, my friend, that's clear evidence of voter fraud in a swing state. I have no doubts that this same pattern will emerge this time around. Maybe, with Trump, we'll finally hold Democrats accountable.